What Our Patients say about McGuckin Chiropractic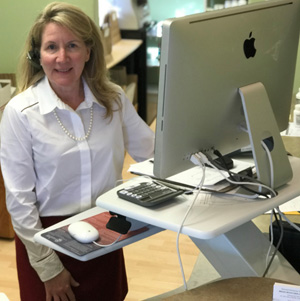 We at McGuckin Chiropractic are proud to be a part of the Valparaiso community and we are very grateful for the praise we receive. Below are some kind words from our growing family of McGuckin Chiropractic patients.
Share your stories too! Click here to send us your feedback so that we can help to spread the word about the benefits of natural McGuckin Chiropractic care.
Yours in Health,
Dr. Brian McGuckin
---
Very helpful, answered a lot of questions we've been having for quite some time.

Everyone was put very much at ease. Even though it was her first chiropractor visit ever, my child was very relaxed through the process and felt comfortable sharing the details of her issue.

Been coming there for 15 years. I have referred several people and will continue to do so. Dr. McGuckin is very knowledgeable and really wants to help people get healthy and well.

Dr. McGuckin truly cares about his patients and works to address the cause, and not just the symptom, of a problem. He and his staff are kind and very responsive; I always leave with a smile on my face.

I first saw Dr. McGuckin over 10 years ago and was impressed at that time. I have since seen him for UTI and have been purchasing Utract (d-mannose) from him which has been a significant help.

I have been going to a chiropractor for 35 years now. Doctor McGuckin performed two procedures on me that previous doctors had never done. Looking forward to being his patient until he retires!! Thanks doc.

We love Dr. McGuckin's commitment to try and figure out what is going on, instead of just treating symptoms. He has helped many of my family and friends.

I took my son to Dr. McGuckin 20 years ago with severe issues and he really helped him find out the root cause with food and allergy testing. I've been sending patients to him my whole life anytime someone has a problem or issue. As I've aged and started having some issues myself the past few months I went back to him to have testing for myself. I'm extremely confident that we can get this under control and live a healthy happy life again!

I have been seeing Dr. McGuckin for many years. His patience and professionalism is always appreciated. Thank you Dr. McGuckin for all your help!

Thank you so much for getting me in so quickly and for the wonderful experience. Hands down best visit to a Drs office ever!!!!
---
I Am Elated to Finally Meet You
Thanks so much for calling and discussing my problem and setting up a very positive and doable plan. I am elated to finally meet you. I look forward to working with you in the future.
– V.G.
Relaxing and Calming Atmosphere

The waiting room atmosphere was relaxing-great to destress in! And your wife was helpful and calming! She sets the tone for the office visit. Dr. McGuckin, thank you very much for helping me with my car! You're the BEST! A.M.
Easiest Adjustment I've Ever Had
Easiest adjustment I've ever had. I came in hardly able to stand up and left being able to go back to work and my workouts. I plan on coming back at least once a month to keep in good shape.
– D.A.
Excellent Visit
The thorough knowledge displayed by Dr. McGuckin in nutrition was extremely helpful. His explanations were enough to inform me, and kept everything at a level that I could understand. While I was there, he did an adjustment to help me with a hip issue I had been having for a while. EXCELLENT visit. I highly recommend Dr. McGuckin. He is more interested in fixing the root problems, rather than continuing to replace band-aids.
– J.D.
Meeting with Dr. McGuckin and his staff was most pleasant. Explanations of how the body works internally were accompanied by visuals, on paper and drawn. All concerns were addressed professionally and thoroughly. I left his office with a full understanding of all explanations and an assurance that I was in the correct place for nutritional advice. M.P.
Caring, Listening Doctor
Dr. McGuckin was so wonderful! I felt that he actually listened when I explained my symptoms and was able to tell me in detail me what was going on with my back & how we could fix it. The other doctors I have seen just gave me options that would temporarily manage the pain. or suggested surgery that may or may not help. Kathy is also wonderful! When I called to make my appointment she listened & was so kind . The minute you walk in the door you can tell that this practice is a warm caring place to be . It is so nice to be treated with respect as an individual instead of just another number coming through the door. Thank You !!
– S.I.
Can Not Say Enough
I can not say enough about Dr. McGuckin and his assistant. I was in severe pain and I called (4) chiropractic offices and no one could get me until next week. There was no way I was going to make it that long! I've been dealing with sciatic nerve pain for 4 days. One of my co-workers came in and told me he goes to Dr. McGuckin and loves him. So I called and the doctor andwered the phone and told me to come down right away. I was in shock. I have never been to a chiropractor before and was very nervous. He is the nicest man ever. He put me at ease immediately. When I left his office I felt 80% better. But, then when I started doing my job the pain came back with a vengeance. I immediately called his office and was told to come to his office right away. He explained the nerve and muscles were very inflamed from him working on that area. He did a cold treatment to my area and it helped so much. He told me I should be feeling full relief by the weekend.
I would highly recommend this doctor. He has a lot of compassion for his patients.
– D.M.
I am so grateful I came to visit Dr. McGuckin! From the phone call with Cathy to schedule to the visit and checkout, everything was warm and welcoming. Dr. McGuckin truly listened to my concerns and took his time to get all the details of my health concerns. I had a blood test done at my first visit, which is great because I'm excited to start my recovery journey with the practice!!K.Q.
Immaculate Professionalism & Knowledge
Dr. McGuckin has immaculate professionalism and knowledge. He will explain his hypothesis and show you how he got to that conclusion. All with accuracy and a smile. It has been a refreshing experience and I refer him now to all my friends. You'll never be disappointed.
-J.H.
Dr. Mcguckin is very kind, thorough & takes the time to explain what is going on & what we can do to be proactive & begin to heal what is going on. He has been so gracious to help me in many of my needs when I was at the end of my rope. I am so thankful, grateful, & Blessed to know him & be a patient of his.M.W.
---
Reviews | (219) 531-1234