Dr. Brian McGuckin, D.C., Chiropractic Internist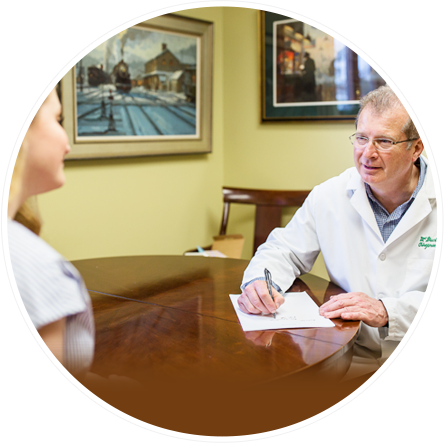 Dr. Brian McGuckin, Chiropractic Internist, specializes in finding the true cause of your problem. A thorough consultation and comprehensive examination allows us to understand your level of health and where you need to take it to, achieving your goals.
Regaining Your Well-being, Naturally
With the right diagnostic tests we can, find the natural solution that works for you. We will help you discover the lifestyle changes that help your body heal, allowing you to stay healthy throughout your entire life. We offer a combination of services that can make a strong impact on your well-being:
Inflammation Testing
Nutritional Consultation
Gait Analysis & Exercises
At our referral-based practice, of all ages from colicky babies to seniors, you are welcome to experience what we have to offer. We see people who are seeking help with a variety of conditions.
Nutrition: Investigating Your Health Challenges
You may have a complaint that isn't related to the spine. You may have tried other avenues without seeing success. Chiropractor Valparaiso Dr. McGuckin had a similar experience and sought to understand how he could achieve better results for himself and his patients. This journey led him to extensive studies in nutrition and how the body heals.
In today's world, people are getting sick more often and disease has become an everyday occurrence. With many testing options available, we'll get you an accurate diagnosis and help you get on the path to better health. We've found that nutrition and chiropractic can work hand in hand for a positive effect on your health. The spine influences the way you feel, and nutrition assists you in being healthy from the inside out.
Find out what we can do for you. Contact us today! We offer on-site laboratory and x ray services with early morning appointments to accommodate your schedule.