By: Dr. McGuckin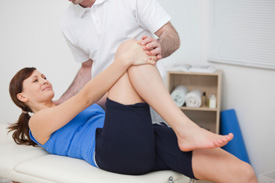 As an active person, I like hiking and the adventure of experiencing something new outdoors. In fact, I'd been to Saugatuck, Michigan many times to go to lunch and enjoy many dune rides.
On my latest search for trails I saw stairs that led up Mt. Baldhead. The small parking area was full of cars and it became evident that this was a local's workout–if you get the chance, it's worth the drive!
The stairs up and down proved to be an intense workout, and that got me thinking—without healthy knees, and more importantly, healthy joints, it would have been impossible to complete.
I'd like to help my patients understand more of what can be done to ensure healthy joints for a lifetime, even if you're prone to injury or have experienced injury in the past.
Even I've Experienced Injury
My injuries are typically of the weekend warrior type–trying to do too much too fast and ending up tearing a tendon or muscle. Many of my patients are also familiar with this type of problem.
Why does this happen?
Ligaments hold a joint in position. Muscles cone down to a thick structure, almost like a cord, and this attaches directly to the bone (called a tendon). A hard injury can stretch or tear a ligament.
When we do too much or lift something too heavy, that usually results in a muscle or tendon tear.
The knees are also susceptible to cartilage tears. Why? Because there are two pads inside the knee. One on the inside (medial) and the other on the outside (lateral) of the knee joint. These can tear, usually during sports or activity, but tend to be a weak spot after healing. This is usually the area that is operated on most often when people have sharp pains inside the knee.
Over time these common injury areas– the shoulders, knees, and hips–are the ones that end up requiring replacements.
Speeding The Healing Process
My goal—for you and myself–is to repair your injury as fast possible and help get patients back to pain free activity. I want to share with you what I have learned about speeding this up.
Consume more Vitamin C. This helps our cells create protein fibers to repair and replace the damaged muscle, tendon, and tears in the ligaments. It's best to consume Vitamin C from natural foods, however Quercitin – Pain Guard and Repair Guard is an easy to take supplement if you have trouble with nutrition. Quercitin is a knitter, it helps the formation of new fibers and leads to quicker healing. It works very well and we have had, myself included, great results.
Wondering what else you can do to speed healing and feel better?
Next week, I'll talk more about Co Q 10.
We look forward to seeing you in our practice soon!