My coffee was perfect on this cool fresh Autumn morning fishing on Southwest Michigan's calm Galien River.  The coffee was hot and the air was crisp.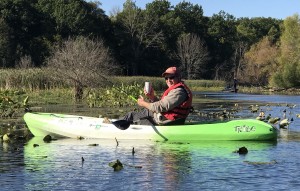 In case you missed National Coffee Day celebrated September 29th you are just in time for International Coffee Day October 1st!!   Organized by the International Coffee Organization and its 75 Member States, International Coffee Day was first celebrated October 1, 2015, in Milan, Italy.  Go out and celebrate the flavorful coffees from around the world along with the farmers, traders, and baristas responsible for creating the beverage that powers the world including goats. Check out www. wincalendar.com for an interesting Ethiopian Legend about goats and the discovery of coffee.
Go to the center of the page.
Select October 2017 calendar.
Select October 1.                                                                                       
Select International Coffee Day.
Smile and relax because this is good for you.  The journal Annals of Internal Medicine published an entertaining study August 2017, citing the benefits of coffee. http://annals.org/aim/article/2643436/moderate-coffee-intake-can-part-healthy-diet Thank you for reading and have a fun weekend, Dr. McGuckin   P.S. Kayaking information is available on the previous post "An Entertaining Activity Close to Home."