This is a recipe from The August 3rd. Wall Street Journal. The Chef's name is Caroline Glover and her restaurant is Annette in Aurora, Colorado.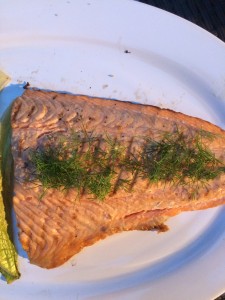 Her recipe included steak I have switched that out for Wild Caught Salmon to promote a higher intake of Omega 3 oils.
Kosher Salt
Wild caught Salmon from McGowen's on Burlington Beach Road; 1 1/2 pounds will easily serve four
2 medium sized Shallots, skins discarded cut lengthwise
1/4 cup water
3/4 cup plus
2 tablespoons extra olive oil
1 tablespoon sulfite free
Dijon mustard such as Great Poupon
Juice and zest (skin from grating) of 2 Lemons
1/3 cup Mezzetta Brand Kalmata olives – buy the ones with the pits and remove the meat with a small knife. The pitted olives degrade in the jar and do not have the same taste. 1/3 cup Mezzetta Brand Castelvetrano Green Olives – again buy with pits in and remove meat with a knife. I bought Mezzetta Brand as they do not have sulfites.
3 tablespoons finely chopped Parsley
3 tablespoons finely chopped Mint
3 heads Organic Romaine, halved, with outer leaves discarded, root end trimmed, and thoroughly washed. Cut lengthwise in half.
Preheat the oven to 425 degrees
If you are using charcoal start the grill.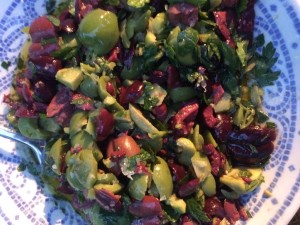 Place shallots in a small roasting pan. Add 1/4 cup of water, 1 tablespoon of olive oil and a pinch of salt. Cover with aluminum foil and roast shallots until easily pierced with a knife, about 20-25 minutes. Transfer shallots and remaining water to a blender or food processor and puree until smooth. Blend in 1/2 cup olive oil and mustard until smooth. Season with the juice of one lemon, and salt to taste.
To make the Tapenade: In a small bowl combine the olives, parsley, mint, half of the lemon zest and 1/4 cup of olive oil. Season with the remaining zest.  Mix well and let set before adjusting with more salt.
Sprinkle Salmon with salt and put skin side down over medium heat coals. Watch the color of the salmon to change from red to pink as it cooks. When the flesh is half cooked through use two spatulas and gently turn over. Cook an additional 10 minutes. Slightly undercooked is better than over cooked. You can always adjust in the oven later if needed.
Brush the romaine with any remaining olive oil and let it wilt on the grill. Limp and turning dark colors tastes best.
Serve the Salmon with the tapenade and next to the fish. Arrange the grilled romaine and drizzle with the Shallot dressing.
Enjoy
Brian McGuckin