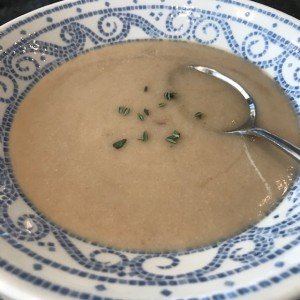 The flavor is delicate.  When cooking down the onions do it slowly as the taste of this soup is the carmelized onions.
The recipe calls for 1/2 cup of oil and bacon with blue cheese as a garnish.  I found the oil to be more than you needed and I did not want the fat from the bacon and cheese.
Ingredients:
1/4 cup of Canola Oil plus 2 tablespoons
6 large yellow onions, thinly sliced.  (3 pound bag)
5 large cloves of garlic.  I sliced them lengthwise.
2 sprigs of fresh Thyme.
2 quarts of chicken stock.  Buy 2 containers of organic chicken stock, I used Emril's as the Chef is from New Orleans as well.
5 slices of white bread, crusts, cut off and discarded, bread torn into bit-size chunks.  I used Dave's Organic White Bread Done Right.
Kosher salt and black pepper.
Directions:
1.  Heat 2 tablespoons oil in a large heavy bottomed pot over high heat.  Once oil is rippling, add onions, stirring to coat, then decrease heat to medium – low and cook stirring frequently, until onions are a golden caramel color, about 1 hour.
2.  Meanwhile, place garlic in a small saucepan and cover with remaining oil.  Cook over low heat until lightly toasted ans softened about 40 minutes.  Keep the heat low and stir frequently, we do not want to burn the garlic.
3.  Add thyme sprigs to onions then add chicken stock.  Strain garlic cloves and add them to the stock.  Save the oil for another use.  Bring mixture to a boil, then decrease heat and simmer 20 minutes.  Remove from heat.  Add bread to pot and let stand until soft and saturated with liquid, 10 minutes.
4.  Working in batches, purée the soup in a blender, starting on low speed and working up to high, until completely smooth.
5.  Season with salt and pepper to taste.
6.  I garnished with thyme leaves.  The recipe called for bacon and blu cheese.
Adapted from "The New Orleans Kitchen" by Justin Devillier.